Sufabel Community Development Initiative (SCDI) is a Non Governmental Organization that helps the community by providing Advocacy, Economic Empowerment and Resource Mobilization to Children, Youth and Women with male motivation in rural and Urban Communities. The organization is aimed at uplifting the livelihood of people living in both rural and urban areas by providing them with quality and friendly health services, Counseling them, Educating them on various aspects of life and Empowering them economically by teaching them various trades. The Organisation is currently operating the following Local Government Areas:
Akko Local Government
Balanga Local Government
Gombe Local Government
Kwami Local Government
Yamaltu /Deba Local Government
Bauchi Local Government Area of Bauchi State.
Mobilise community through Awareness creation, Promoting education toward synergy building in disease mitigation, Skill acquisition for community development.
Promoting community participation towards action for a" healthy and just society
HIV/AIDS prevention and care and support services, TB, Counseling services, Malaria, gender equality, income generating activities, Research and Environmental
To promote and expand local community based micro-enterprise development in order to support households and strengthen social cohesion.
To promote pro-poor income growth initiatives.
To promote human and infrastructure development.
To encourage environmental-friendly activities and ensure the protection and sustenance of safe environment.
To build capacity for community based management of natural resources.
To initiate and promote pro-public health intervention programs.
To evolve and pursue community based approaches targeted towards crisis management, conflict resolution and peace making and peace building.
To promote activities in the areas of gender equality and empowerment of women in governance.
To participate in the global partnership for the promotion of the activities that engender human sustainable development.
To contribute to reducing the burden and socio-economic problems associated with TB, HIV and Leprosy in North-Eastern Nigeria
To contribute to the control of Neglected Tropical Diseases among school children by promoting regular use of foot wear and deworming in North-Eastern Nigeria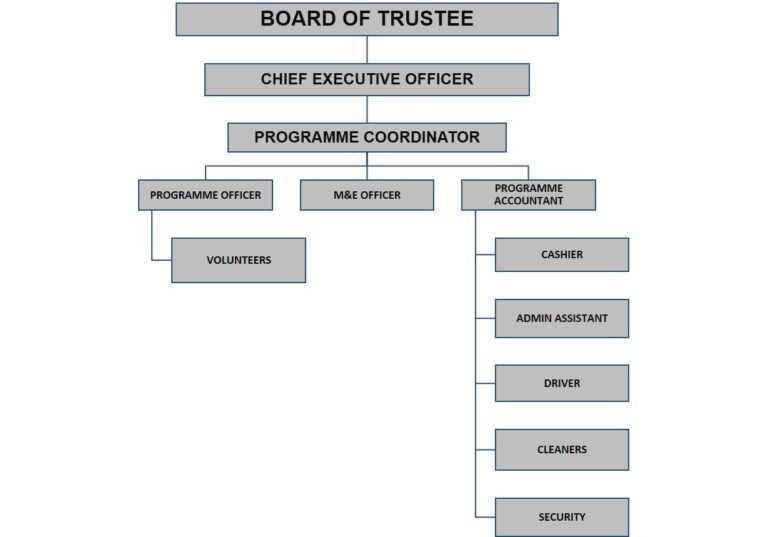 | S/N | Full Name | Qualification | Designation |
| --- | --- | --- | --- |
| 1 | AMINA C. JAFUN | BSc. H/Educ. | PROGRAME COORDINATOR |
| 2 | USMAN SHUAIBU | NCE | PROGRAME OFFICER I |
| 3 | AHMED MANZO | J.Chew | PROGRAME OFFICER II |
| 4 | YUSUF YAKAI TULA | Dip. Com/Health | M&E OFFICER I |
| 5 | NAFISA BELLO SALIHU | BSc Pharmacy | M&E OFFICER II |
| 6 | IBRAHIM ABDULKARIM | BSc Geology | ASSISTANT. M&E OFFICER |
| 7 | SALIHU MUSA GWANI | BSc. Accounting (CNA) | ADMIN & FINANCE |
| 8 | LURAYIWA WILLIAM | Dip. S/Admin | ADMIN ASSISTANT |
| 9 | MUSA MUHAMMED | School Certificate | SECURITY |